Since 1978
History of Domestic Sea Salt and salTherapy
SCROLL DOWN

Salt Different
Not all salts are the same.
The tidal flat sun-dried salt harvested from the tidal flats on the west coast,
which was registered as a UNESCO World Natural Heritage Site in 2021, and the Shinan Archipelago, which is famous for its clean areas, is richer in minerals such as magnesium, calcium, and potassium that are beneficial to the skin than the world-famous French Guerande salt.
Inheriting his father's craftsmanship and production techniques, who have been producing and researching only salt in the Shinan archipelago since 1978, we are researching and developing cleansing & body care products that specialize in the excellence of domestic tidal flat sea salt.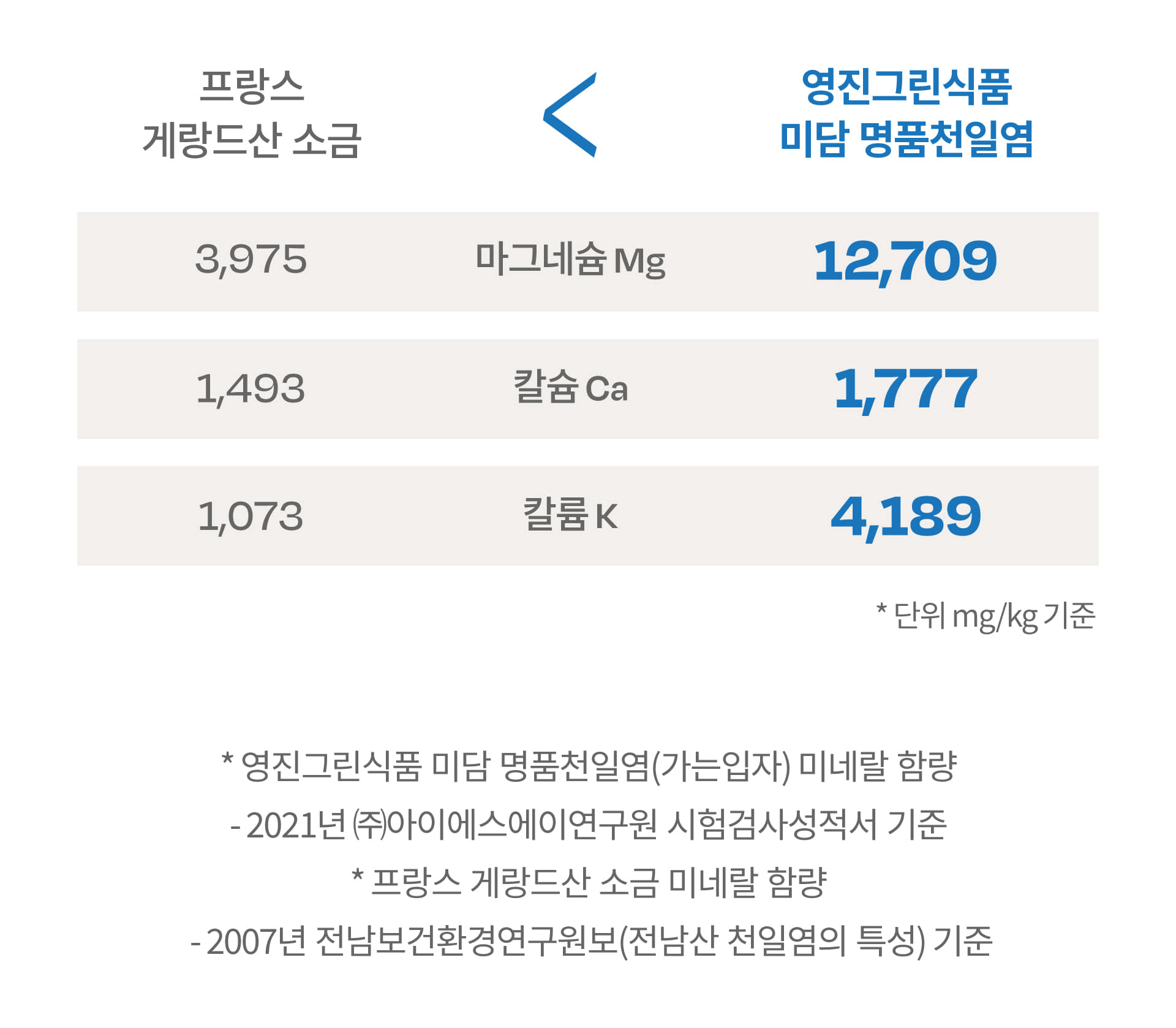 Key Ingredients

Domestic Sea Salt Fine Particles
Fine particles of domestic sea salt are raw materials made exclusively for body scrub by selecting only suitable size particles from clean tidal flat sea salt produced in the Unesco Biosphere Reserve, the Shinan Archipelago Sea, so as not to irritate the skin. It is processed at Youngjin Green Foods, which obtained HACCP for the first time in the domestic industry and has KOSHER certification, and is managed with the best quality through the procedure of "Washing -> Dehydration -> Grinding -> Drying -> Foreign matter sorting -> Particle sorting -> Finished product packaging" .
Products containing domestic sea salt fine particl

Domestic sea salt intermediate particles
The domestic sun salt intermediate particle is a raw salt processed in the middle size between the particles of the clean tidal flat sun salt produced in the Shinan Daedo Sea, a UNESCO biosphere conservation area, and the thick particles. It has been developed for the removal of thick skin keratin such as scalp or heel, which is difficult to remove keratin.
Products containing intermediate particles of dome
---